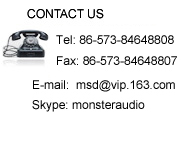 Jiashan Monster Audio Electronics Co., Ltd. is an enterprise specialized in developing and manufacturing in kinds of speaker and enclosure. It locates in Jiashan, Zhejiang province, one hour by drive away from Shanghai, Hangzhou international airport and four international harbours. Products are distributed from here worldwide.

With over 15 years of rich experience in this industry, under the ISO 9001 quality system control, Monster Audio provides the world premium quality and ranges of products: Car Audio、PA Audio、Indoor/Outdoor Speaker New products in continuously developing to meet customer and the market needs.

Monster Audio has got a team of professional and knowledgeable technicians as well as well-trained workers with high efficiency. We own advanced facilities, precise instruments and efficient assembly lines. We always devote ourselves in state-of-the-art development and best-quality guarantee. We offer good service with honesty and enthusiasm, we cherish our clients as friends and partners, and we hope you share, grow, and work with us together.